Available on iTunes Archive
711 articles
In this very special episode of Herfin' Heads Ben does not confront a high school bully, while Brian also does not learn a thing or two from a hard-nosed Driver's Ed teacher. Instead Ben and Brian journey once again into the realm of cigar reviews to discuss the L'Atelier Extension de la Racine ER13. Along the way Brian struggles with pronunciations and invents the "Double Raptor" while Ben confuses Sancti Spiritus tobacco with Pelo de Oro and throws around words …
Back in 2012, Famous Smoke Shop began to promote a new line of Oliva Produced House Blends.
Brian
and I were fortunate enough to get a few samples and we set out to record a couple of episodes of Herfin' Heads. We reviewed both the
Inferno
and
Vindicator
favorably and I've been smoking them, off and on, ever since.
In 2008 Oliva expanded on its wildly popular Serie V Liga Especial. The Oliva Serie V Maduro Especial was born and it took Maduro Guys, such as myself, by storm. Cigars were only available in one size (A Torpedo at the time) and came in 10 Count Boxes. Production was limited and most shops in my area restricted them to two per customer.
Every year I get excited for the new batch of Serie V Maduros to begin …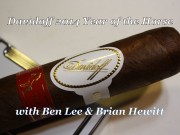 In this very special episode of Herfin' Heads, Ben and Brian take a look at the latest annual limited edition from Davidoff, the 2014 Year of the Horse, and Ben talks about the moment when he first "got" Davidoff cigars. Enjoy!
For those of you who don't take kindly to moving pictures and prefer your cigar reviews in text, in brief, both Brian and Ben really enjoyed the Davidoff 2014 Year of the Horse and recommend trying it if you …
This has been a rough year in the White Household. With Christmas right around the corner, I've been sticking to the deal sights to try and stretch by cigar budget as much as possible. Doing this doesn't provide much variety but I've been able to stock my humidor with some pretty good buys.
A little while back I was pleasantly surprised by the Asylum Premium and have since been interested in trying the other Asylum offerings. When the Asylum 13 …
A few weeks ago I came home from work to find a package waiting for me. Inside the package was a note, t-shirt, and several cigar samples from Casa Fernandez. It has been quite a while since I've smoked a Casa Fernandez Cigar but I've had excellent luck with the lines. With my expectations set very high, I was eager to dig in and start smoking.
On a whim, I grabbed the bag containing a pair or Casa Fernandez Aniversario …
Wrapper : Nicaraguan
Binder : Nicaraguan (Double Binder)
Filler : Nicaraguan
Source : Bought box at shop and got 3 samples in mail

Welcome to this weeks condensed written review of the RyJ by Romeo y Julieta. This cigar comes in three sizes, Bully Grande (5×54), Toro (6×52 – this is the review stick) and Piramide (6 1/8×52). Prices range from $8 to $8.75 MSRP.
Cigar
Lost my original writeup so you get a …
Wrapper : Ecuadorian Habano
Binder : Nicaraguan
Filler : Nicaraguan
Source : Gifted from Dave

Welcome to this weeks first impressions review of the Don Pepin Garcia 10th Anniversary Limited Edition cigar. This cigar is available in one size (6 1/2 x 52) in individual coffins and boxes of 14. It is also limited to 2000 boxes. MSRP for singles is $22.
I have to admit, I like cool bands on cigars and this one is pretty cool …
A little while back we received an email from Kevin over at Ventura Cigar Company. Kevin wanted us to check out their Project 805 Andullo line. We were happy to take them up on the offer and a couple of samples were sent our way for review.
In the sales literature provided with the Project 805, the focus was put on Andullo. It is explained that this is the mystery tobacco that gives the Dominican Puro its soul. When …
Wrapper : Honduran Corojo Maduro
Binder : Brazilian
Filler : Nicaraguan, Dominican and Honduran
Source : Bought at local shop (Genuine Tobacco)

Cigar
Welcome to this weeks review of da Mike Ditka Throwback by Camacho. This cigar is available in one size (6×50) and comes in boxes of 10 coffins. This was an impulse buy as Genuine Tobacco only had one full box and priced at $10 a stick or box for $100 it was easier on …