Personal Archive
37 articles
Seven years…has it really been that long? It feels just like yesterday when my wife was in the bathroom that Saturday morning as I laid in bed, asked "what did the doctor say it would feel like when my water broke?" In a sleepy voice I replied, "like you peed yourself" followed by a short pause and a hesitant reply from her of "oh". After another short pause, I asked hesitantly "why?" and we were off to the races. We …
We are two weeks away from the 6th Annual Smoke a JJ for JJ Day. 6 years? The older you get, the faster time goes by. This is always a bitter sweet time of year. I find myself always looking forward to the camaraderie that we experience together but at the same time, dreading the emotional roller coaster it triggers. This year, with my brother committing suicide I expect the emotions to be even more raw. Separate events but same …
It has been a crazy 2013 so far for us here at The Stogie Review Family. It is hard to put into words all the emotions. What we wouldn't give for the problems of the past where our biggest worry was whether the server would stay up for IPCPR. Walt and I have formed a very special relationship over the course of the past seven years. Calling him a friend or a brother, would be putting it mildly. It is …
I must have stopped and started this post a million times. The particulars don't matter too much. I learned when we lost the Little Robusto that the "if's" and "why's" can drive you mad. My older brother died this past weekend. He was four years older than me which came in handy my high school years. He was there when I was a freshman (he a seasoned senior) giving me pointers on how to ask a girl to homecoming and …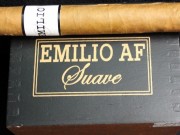 Cigar of the year
An amazing mild to medium cigar that I have already bought 2 full boxes plus numerous singles of. I can smoke this stick one right after another and still enjoy them all the same. I bought more of this cigar than any other cigar released this year and it comes in at a great price point.
Rest of the top 10
Eddie, Eddie, Eddie, this is a hit. People …
Last November I penned a post about the 5 Things I Know To Be True (Cigars Edition). November is always a crazy month for me. Lots of highs and lows filled with a roller coaster of emotions. There is the thankfulness for family and friends around Thanksgiving, the sadness of the Little Robusto and today, my ten year wedding anniversary. Ten years ago, I was 25, still bald, working a unfulfilling data entry job, my now teenage nieces were …
My dad spent 30 years in the Air Force. As you can imagine that meant a lot of time away from home while me and my brothers were growing up. Other than my dad there have been two influential father figures in my life. The first was a man named Terry Kreft who taught me about hard work and the meaning of an honest days work for an honest days pay. He also taught me how to change a tire, …
We are less than a month away. This is always a bitter sweet time of year. I find myself always looking forward to this year but at the same time, dreading the emotional roller coaster it triggers. If you remember my post last year about Three Things I Know to Be True (Cigars Edition) you will remember I wrote how cigars can be a band aid. I wrote:
When I'm in the dumps missing the Little Robusto. I'll step outside,
…
My wife Kate and I are proud to share the joyous news that our son, Charles Francis Greenbacker IV, was born at 10:17pm last night. Everyone is doing quite well: mother and child are resting peacefully, and dad is over the moon.
Birth stats: 8 lbs 6 oz, 20.75 inches
Since there are already several "Charlies" in our family, we've chosen the nickname "Chase" for our little guy.
As I mentioned earlier, I've selected the My Father No. 1…
Welcome back once again my friends to another week of me battling this dang cold with a sore throat, cough and taste buds that seem to have been burnt off at the roots.
I am going to talk just a little bit about different cuts on cigars this week. I know most of you will groan but there are a lot of newer smokers or even veterans that have never seen nor tried anything other than the standard straight cut, …