YouTube Archive
225 articles
This week I decided to check out a cigar I think every bourbon fan will find interesting, the Camacho American Barrel Aged Toro. As the name implies, a portion of the tobacco in the blend (the corojo) spent some time in bourbon barrels- 5 months to be exact. And that's after it spent 6 previous years aging. As a whiskey enthusiast, I felt obliged to light a few up and see if a good idea translates into a great cigar. …
In this trim, athletic video cigar review, I take a look at Dunhill's first foray into the full-bodied cigar since they stopped making cigars in Cuba. I haven't smoked a lot of Dunhills, but have had enough to know that this cigar is a significant departure for them. For the complete story, click the play button below. (To see distinguished gentleman Steven Kron talk about this Dunhill cigar and others at IPCPR 2015, click here. But watch this video …
It doesn't matter how often it happens, getting cigars in the mail is always a source of happiness, especially when it's unexpected. Back in December, the people at Gurkha sent me just such a surprise- the East India Company Classic Cigar Havana Blend Robusto. The name's quite a mouthful, and the band is equally large, but thankfully, the dark, box-pressed stick is a comfortable 52 ring gauge. I've been smoking them casually since, getting fully acquainted with the cigar. …
Disclaimer: For full disclosure, the cigars and beer provided for this edition of Week in Smoke were samples provided by CAO Cigars and Flying Dog. Who doesn't like free beer and cigars? CAO is also a paid advertiser with us.
A new format for the Week in Smoke series. Hopefully the video clips instead of images from my Instagram feed will be well received.
I'm not very knowledgable with beer, the brewing process, components, ingredients or even the lingo …
It is kind of funny that with IPCPR on the horizon and my last Week in Smoke mainly containing new releases that I turn to the Sancho Panza Double Maduro. With Walt recently reviewing the Sancho Panza Extra Fuerte I thought this would compliment his review. Plus, with us trying to get back to basics and focus on having fun than dealing with some of the bullshit that has come our way over the course of the last eight …
A few years back Cigars International Introduced the Man O' War Line of cigars by AJ Fernandez. The Man O War Ruination was a smash hit and came highly recommended by Jerry Cruz. Ever since the Man O' War, AJ Fernandez has become a household name among cigar smokers.
As AJ Fernandez become more successful, he launched the San Lotano lineup. I fell in love with the Oval and purchased it as often as my budget allowed. As much …
In this very special episode of Herfin' Heads Ben does not confront a high school bully, while Brian also does not learn a thing or two from a hard-nosed Driver's Ed teacher. Instead Ben and Brian journey once again into the realm of cigar reviews to discuss the L'Atelier Extension de la Racine ER13. Along the way Brian struggles with pronunciations and invents the "Double Raptor" while Ben confuses Sancti Spiritus tobacco with Pelo de Oro and throws around words …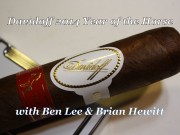 In this very special episode of Herfin' Heads, Ben and Brian take a look at the latest annual limited edition from Davidoff, the 2014 Year of the Horse, and Ben talks about the moment when he first "got" Davidoff cigars. Enjoy!
For those of you who don't take kindly to moving pictures and prefer your cigar reviews in text, in brief, both Brian and Ben really enjoyed the Davidoff 2014 Year of the Horse and recommend trying it if you …
'Whats old is new' has been a phrase I have been using a lot lately. I've been doing my fair share of revisiting some of the cigars that we smoked back in the early days of Stogie Review. The cigar smoker today is a different creature from a cigar smoker from 2006. Back in 2006 the whole 6×60 ring gauge was in it's infancy and The Nub size was all the rage. With all the recent turmoil in Washington DC …
In this very special Ebony & Ivory edition of Herfin' Heads, Ben and Brian have a few laughs, cover both the Sam Leccia Black and White lines and learn a thing or two. OK, we probably didn't learn anything beyond how wrong our expectations were for both lines. That turns out to be a good thing and a bad thing. But I won't spoil it, click on the play button below for the full story.
…