iOS Compatible Archive
224 articles
A few years back I was approached by Sam Leccia (The Face behind Nub Cigars at the time) about making a Rolling Table for him to take from event to event. I was happy to help out and got together with my Dad to make a couple tables.
Part of the arrangement for making the Rolling Tables was that my father and I be provided with a few boxes of Nub Cigars. My father and I each had Sam sign …
A few years back Cigars International Introduced the Man O' War Line of cigars by AJ Fernandez. The Man O War Ruination was a smash hit and came highly recommended by Jerry Cruz. Ever since the Man O' War, AJ Fernandez has become a household name among cigar smokers.
As AJ Fernandez become more successful, he launched the San Lotano lineup. I fell in love with the Oval and purchased it as often as my budget allowed. As much …
In this very special episode of Herfin' Heads Ben does not confront a high school bully, while Brian also does not learn a thing or two from a hard-nosed Driver's Ed teacher. Instead Ben and Brian journey once again into the realm of cigar reviews to discuss the L'Atelier Extension de la Racine ER13. Along the way Brian struggles with pronunciations and invents the "Double Raptor" while Ben confuses Sancti Spiritus tobacco with Pelo de Oro and throws around words …
Earlier this month I received a surprise email from Chris Weber, VP and Marketing Director for Veritas Cigars. Chris was interested in having Stogie Review smoke their new Torch Lineup. A couple of days later I received a package in the mail which contained 6 Torch Connecticut and 6 Torch Habano.
Torch by Veritas Cigars is available in 5 Sizes, the biggest of which is a 7×54. The Connecticut, which I'm smoking for this Short Ashes Review, features a Nicarguan …
Have you ever found yourself shopping for cigars online and suddenly skeptical? Your mouse hovers over the "add to cart" button and you just don't know if your should click. The cigar looks pretty plain, the price is low, but it is made by a manufacturer with a solid reputation. Will this just be another sub-par house blend or is this something special? Do you take the gamble or do you instead spend your money on an old standby?
We've …
In 2008 Oliva expanded on its wildly popular Serie V Liga Especial. The Oliva Serie V Maduro Especial was born and it took Maduro Guys, such as myself, by storm. Cigars were only available in one size (A Torpedo at the time) and came in 10 Count Boxes. Production was limited and most shops in my area restricted them to two per customer.
Every year I get excited for the new batch of Serie V Maduros to begin …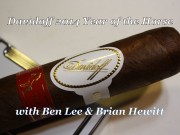 In this very special episode of Herfin' Heads, Ben and Brian take a look at the latest annual limited edition from Davidoff, the 2014 Year of the Horse, and Ben talks about that moment when he first "got" Davidoff cigars. Enjoy!
For those of you who don't take kindly to moving pictures and prefer your cigar reviews in text, in brief, both Brian and Ben really enjoyed the Davidoff 2014 Year of the Horse and recommend trying it if you …
Leading up to the 2013 IPCPR Trade Show there was a lot of buzz around the release of the Oliva Serie V Melanio Maduro. Being a Muduro Guy, I was pretty eager to get my hands on a few. As much as I loved the original Oliva Serie V Melanio, this new release just had to be something special.
Unfortunately, I wasn't able to make it to Vegas for the Trade Show and had to rely on local …
This has been a rough year in the White Household. With Christmas right around the corner, I've been sticking to the deal sights to try and stretch by cigar budget as much as possible. Doing this doesn't provide much variety but I've been able to stock my humidor with some pretty good buys.
A little while back I was pleasantly surprised by the Asylum Premium and have since been interested in trying the other Asylum offerings. When the Asylum 13 …
A few weeks ago I came home from work to find a package waiting for me. Inside the package was a note, t-shirt, and several cigar samples from Casa Fernandez. It has been quite a while since I've smoked a Casa Fernandez Cigar but I've had excellent luck with the lines. With my expectations set very high, I was eager to dig in and start smoking.
On a whim, I grabbed the bag containing a pair or Casa Fernandez Aniversario …