Short writeup today as I am not feeling well at all. Hit me last night, hence why this review is up later than usual.
This cigar is the brainchild of Jim Robinson (owner of Leaf & Bean Company) and Oscar Valladares. They have now produced four varieties all in a toro size (6 x 50) which included connecticut, maduro, sumatra and corojo wrappers. All binders and fillers are Honduran. As you can tell from the picture, or …
Wrapper : Ecuadorian Connecticut
Binder : Ecuadorian Habano
Filler : Dominican and Nicaraguan
Source : Samples sent from Nomad
This week I take a look at a brand new cigar from the Nomad Cigar Company. This cigar is the Nomad Cigars Connecticut Fuerte. This cigar will be available (today, March 1st actually) in four sizes, corona, robusto, robusto gordo and toro with a msrp from $7.90 to $8.50.
Pre-Light
Taking a gander at this Nomad Cigars Connecticut Fuerte and …
Cigar
Hello all my fans and haters, I am finally back! Moving took so long with the condition my neck is in but now everything is finished and I can hopefully get back to reviewing some cigars. I did lose my smoking room so I will either record at a shop or outside when it isn't too cold for my wussy ass.
This week I take a look at the Jesus Castanon Mareba cigar which is a Brazilian puro available …
In 2008 Oliva expanded on its wildly popular Serie V Liga Especial. The Oliva Serie V Maduro Especial was born and it took Maduro Guys, such as myself, by storm. Cigars were only available in one size (A Torpedo at the time) and came in 10 Count Boxes. Production was limited and most shops in my area restricted them to two per customer.
Every year I get excited for the new batch of Serie V Maduros to begin …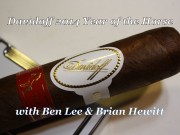 In this very special episode of Herfin' Heads, Ben and Brian take a look at the latest annual limited edition from Davidoff, the 2014 Year of the Horse, and Ben talks about that moment when he first "got" Davidoff cigars. Enjoy!
For those of you who don't take kindly to moving pictures and prefer your cigar reviews in text, in brief, both Brian and Ben really enjoyed the Davidoff 2014 Year of the Horse and recommend trying it if you …
Leading up to the 2013 IPCPR Trade Show there was a lot of buzz around the release of the Oliva Serie V Melanio Maduro. Being a Muduro Guy, I was pretty eager to get my hands on a few. As much as I loved the original Oliva Serie V Melanio, this new release just had to be something special.
Unfortunately, I wasn't able to make it to Vegas for the Trade Show and had to rely on local …
This has been a rough year in the White Household. With Christmas right around the corner, I've been sticking to the deal sights to try and stretch by cigar budget as much as possible. Doing this doesn't provide much variety but I've been able to stock my humidor with some pretty good buys.
A little while back I was pleasantly surprised by the Asylum Premium and have since been interested in trying the other Asylum offerings. When the Asylum 13 …
A few weeks ago I came home from work to find a package waiting for me. Inside the package was a note, t-shirt, and several cigar samples from Casa Fernandez. It has been quite a while since I've smoked a Casa Fernandez Cigar but I've had excellent luck with the lines. With my expectations set very high, I was eager to dig in and start smoking.
On a whim, I grabbed the bag containing a pair or Casa Fernandez Aniversario …
Wrapper : Nicaraguan
Binder : Nicaraguan (Double Binder)
Filler : Nicaraguan
Source : Bought box at shop and got 3 samples in mail
Welcome to this weeks condensed written review of the RyJ by Romeo y Julieta. This cigar comes in three sizes, Bully Grande (5×54), Toro (6×52 – this is the review stick) and Piramide (6 1/8×52). Prices range from $8 to $8.75 MSRP.
Cigar
Lost my original writeup so you get a …
Wrapper : Ecuadorian Habano
Binder : Nicaraguan
Filler : Nicaraguan
Source : Gifted from Dave
Welcome to this weeks first impressions review of the Don Pepin Garcia 10th Anniversary Limited Edition cigar. This cigar is available in one size (6 1/2 x 52) in individual coffins and boxes of 14. It is also limited to 2000 boxes. MSRP for singles is $22.
I have to admit, I like cool bands on cigars and this one is pretty cool …